October 12th, 2009
Can you kickflip a Qashqai+2?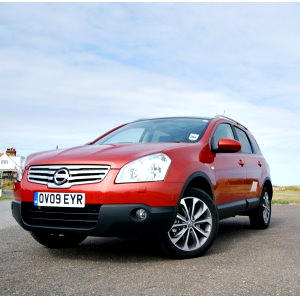 A few weeks ago Motormorph had the opportunity to test Nissan's Qashqai+2. Initially perplexed by the thought of a family car as we have parenting experience on par with Jade Goody, I stuck to what I knew and played around with the tech inside the car. Below is a quick POV (Point Of View) video inside our Teckna spec test car. I apologies for the wind noise but our equipment wasn't best suited to the conditions.
The tech inside the Qashqai performed very well and so did the car as a whole. Comfortable with a torquey 2.0 litre engine and great steering feel it is amazing that Nissan have actually managed to add a 'Go Large' feature on a car as the +2 looks the same size as the normal Qashqai.
At £23k the Teckna spec Qashqai+2 can seem a little expensive for a car with a substandard ride. But compared to a Vauxhall Zafira the styling, fit and finish is definitely worth paying for.
One bugbear I had was that I was crucially misled by the TV adverts for the Qashqai+2. No matter how I drove the car it was impossible to make the crossover perform like a skateboard. I even went to the lengths of taking the car to Millbrook Proving Ground – the automotive skatepark – but still had no luck.
If you have ever had any success kickfliping a Qashqai feel free to contact Motorfood immediately. Now check out the vid below.