November 1st, 2010
10 car events to do before you die
I don't want to get too deep here, but one day we are all going to kick the bucket. As car enthusiasts we must try and make the most of the time on our tarmac laced planet. To make things a bit easier, we have made our very own bucket list of 10 motoring events you have to attend/participate in before you die.
24 Hours of Le Mans
Grab your diary and write 'busy' in on the second weekend of June from now to the end of time. Every summer a small town in France transforms into Mecca for petrolheads when all the big boys from GT racing and ALMS roll in for the 24 Hours of Le Mans.
Le Mans is not just a car race; it is a festival for petrolheads wrapped in one of the world's most strenuous endurance races. Surrounded by like-minded people, with plenty of alcohol to lubricate you through the night it is one of the best car events on the planet. You can read more about what it is like to attend Le Mans here.
Pikes Peak International Hill Climb
Think about these facts for a second. 156 turns, 12.5 miles, an ascent of over 1400 feet on a mix of loss gravel and tarmac in cars, trucks, motorbikes and quads on the edge of a cliff. Now wouldn't that be a great race? Well it is!
Known as the "Race to the Clouds" the Pikes Peak International Hill Climb is fairly unknown to some motoring fans; which is surprising considering it is the second oldest sports race in America.
Every July over 200 competitors and thousands of fans head to the infamous Pikes Peak in Colorado, embarking on a week of partying and watching seriously boosted cars slide their way up the mountain. Think Le Mans but more Jägermeister, tailgate parties and "YEEE HAHHHSS".
Gumball 3000
Gumball is a weeklong dash from one luxurious destination to another as quickly as possible. But this is not for the average petrol-head as you need deep pockets, and I mean seriously deep. It costs £30,000 for two people in one car to enter and you need a car that is unique to the race to be selected for the trip. However you also need to take suitcase of cash with you to pay for repairs, bribes and police fines.
Founded in 1999 by Maximillion Cooper The Gumball is the epitome of exotica and debauchery. An annual 3,000 mile international road rally which takes place on public roads, with a different 3,000 mile route around the world each year. Fast cars, rich guys and hot girls – it is a trip which everyone wants to get on.
Bathurst 1000
Going to the Bathurst 1000 can be expensive as it is all the way Down Under, but it is well worth it. Seeing the epic battle between Holden and Ford as the flame spitting V8 Supercars take to the insane Mount Panorama circuit is a must.
The Bathurst track is one of the weirdest tracks on the earth; with a 174 metre vertical difference between its highest and lowest points, and grades as steep as 1:6.13 and with corners such as 'Hell', you know it can provide some exciting races. If you are lucky you may even see a kangaroo play chicken with 650hp Australian brutes, but if you don't, there will be plenty of Aussies to talk to and have a 'tinny' with.
The Paris-Dakar
If your other interest apart from cars is standing in the hot dry heat of a desert getting covered in dust, you will love the Paris-Dakar rally. The Paris-Dakar rally can confuse many, as it no longer takes place in Paris, or even Dakar. Since the inception in 1978, races were from Paris to Dakar (see where the name came from?), but due to security threats in Mauritania in 2008, the 2009 Dakar Rally was run in South America and has stayed in South America since.
The Rally-Raid is a brutal endurance race where competitors are expected to cover around 500 miles per day. That may sound easy, but competitors are not travelling on perfectly smooth motorways in executive luxo-barges. Instead they are either in trucks, bikes or heavily modified 4x4s traversing across dunes, mud, grass, rocks and negotiating BIG drops.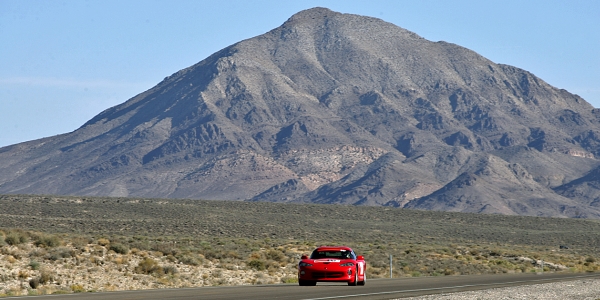 Silver State Classic
You thought that the Autobahn was the only place where you can max out your car, right? Wrong. The Silver State Classic is like the Autobahn, but faster and in the USA.
The Silver State Classic is a flat out road race in Nevada. The state officially closes down 90 miles of Route 318 and more than 200 drivers from around the world converge on the small town of Ely, to test their machinery to the limit. Cars have to complete various events with the big one being a 90-mile run to see how far they can push the top end of their car's speed.
Drivers and navigators compete to set a specified average speed for the class over the 90-mile course. Over the weekend, there are also two drag events on a local stretch of closed-off highway. Competitors also fight it out to become the zero to 200mph to zero challenge champion to show who has the best all round machine.
Altitude can cause cars trouble as the event is run at 6,400 ft, so take your oxygen mask if you go. Also remember to take your digital Polaroid machine and set it to continuous mode as it is not a rare occurrence for a tyre going at 200mph to accidently go pop on the blistering hot road and cause a massive crash.

Japanese Touge drifting
Like drifting? Well this event is for you. To get a raw account of drifting you need to buy a ticket to Japan and camp out in the mountains, the birthplace of modern day drifting.
Touge battles were where cars such as the Toyota AE86 and Nissan Skyline made their name. Young Japanese drivers/mentalists would head into the hills late at night to get the rear of their cars very loose on the twisty mountain passes. In the pitch black was where drifters honed their skills and learnt how to get a car properly sideways. It isn't the safest or most legal form of motorsport, but it does look very cool.
We suggest leaving this one as the last one to tick off the list, as it will probably be the one that finally finishes you. But what better way is there to go through the heavenly gates than sideways in an AE86 with clouds of smoke coming off your tyres?
If you are still not sold on the idea, you will be after taking a look at this video.
European Hill Climbing
If you have ever wondered how fast a Formula 3000 car would actually go on the road, I would pack your bags and head to the Alps for European Hill Climbing.
Unlike circuit racing, drivers in European Hill Climbing compete against the clock. Starting at the base of the mountain, they slither up it with rapid gear changes and copious amounts of oppo until they finally reach the top.
The European Championship allows single-seater cars, open-cockpit sports prototypes, and touring cars so there is plenty to see. The sheer pace of the cars flying by on the bumpy public roads is worth the climb up the mountain and the dodgy veal in the chalet at the end of the day.
Mille Miglia
If you are a bit too sophisticated (old) for Gumball 3000 maybe the Mille Migilia is more up your street.
In 1982 the legendary Mille Miglia endurance race was revived as a road rally event for the rich and famous to live out their dream of being Sir Stirling Moss. Participants cover 1,000 miles of Italian roads that used to be driven by legends such as Stirling Moss when they hammered round them with no seatbelts and at ridiculous speeds.
Nowadays, timing rather than speed is of the essence for the enthusiasts from around the world who race their vintage cars, dating from 1927 to 1957. This magnificent parade of priceless machinery doing what they do best has earned the Mille Miglia the reputation of being "the most beautiful road race in the world".
Monaco GP
This one really doesn't need an introduction. If you have either your life left, or some money left in the bank after ticking off the events above, get to Monaco when Bernie's F1 circus is in town.
Things don't get much better for a petrolhead than watching the world's most glamorous motorsport scream its way through the world's most luxurious city from the luxury of your own yacht. Epic.
Rowan Horncastle