July 21st, 2013
Goodwood Revival
It's only 8.30am and I've already had a spiv try to sell me nylon stockings out of his coat pocket, been handed a ration book and accidentally bumped into Winston Churchill knocking his cigar straight out of his mouth. No, this isn't a dream, it is just typical British eccentricity gone wonderfully mad at the Goodwood Revival.
The Revival is a celebration of motorsport from 'the good old days' and it is held once again at Lord March's gaff. But unlike the Festival of Speed it is not held on his front lawn. Instead it takes place around his plaything at the bottom of the garden – the legendary Goodwood Motor Circuit.
From 1948 to 1966 Goodwood Motor Circuit, with Silverstone, was the backbone of British motorsport. The tarmac has been graced by legends and for one weekend in September it is opened to relive the magic of the 40s, 50s and 60s. Cars from all different formulas of the period are flown in to leave an impression on the track and on the 138,000 spectators who attend over the weekend.
But before you even get to the gates of the Revival there is plenty of things to keep you entertained in the car park. With the 2.4 mile circuit in Sussex acting as magnetic north for classic cars over the weekend, it seems that every single one in the country (and further) is present. Owners of tasty metal are encouraged to flaunt their tax exempt classics in exchange for front row parking by the gates. You could spend a whole day walking around just that one car park as you see things from all corners of the world; including Facel Vegas, Baha spec VW Beetles, a gaggle of Gordinis and everything else in-between.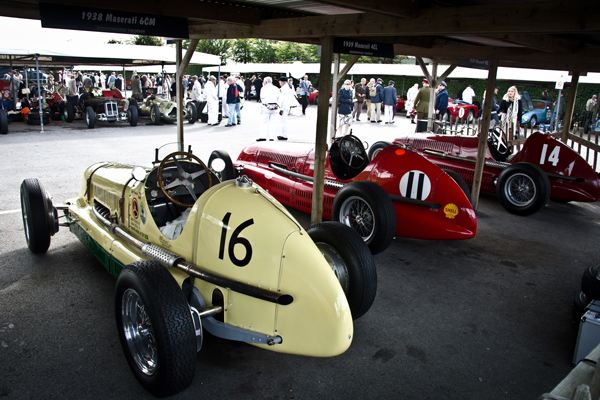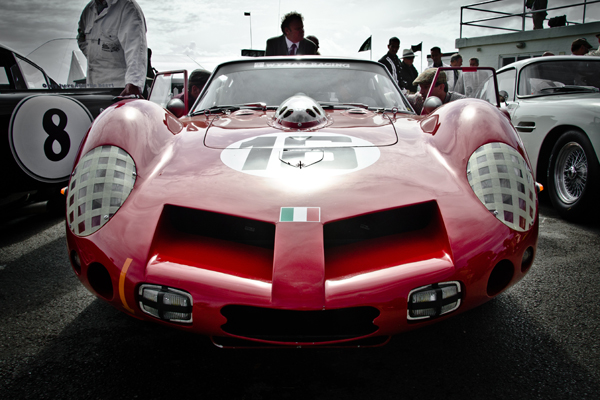 When you do make it through the gates you instantly feel a friendly and joyful atmosphere lingering in the air (along with the vintage cigar smoke). Vintage shops around the country are ransacked weeks in advance for cravats, spotted dresses and tweed to get that nostalgic look. Dressing up is all part of the fun and if you don't, you stick out like an iPod in World War One.
Anyway, enough with the fashion and back to the cars. The setup is quite similar to the Festival of Speed as cars are kept within a walkable paddock area and then summoned to the track when it's their time to race. Only being able to cover a thirty year time scale, the diversity in cars is less than at the Festival of Speed. But that doesn't mean it is any less impressive. In fact, it is even more impressive. Getting a grids worth of metal from as early as the 1930s is no mean feat, and to see the all lined up together being worked on by mechanics in period dress really is a throwback to the past.
This year marks Juan Manuel Fangio's 100th Birthday and the 60th anniversary of his first of five F1 titles. To mark the occasion nothing short of legendary machines that were raced by Fangio were all brought together; including Fangio's ex-300 SLR, W196 and W196 Streamliner flown in from Mercedes' museum in Stuttgart. But that was only the beginning as there was also his (deep breath) Alfa Romeo Tipo 158/9 'Alfetta', Ferrari 290 MM and 860 Monzas, Gordini Type 15s and 16, Maserati 250F, 300S and 450S, Jaguar C-type, Talbot-Lago Type 26S, Kurtis Kraft-Offenhauser 'Dayton Steel Foundry Special' Indy car and two of his earliest racing cars shipped over specifically for the Revival from the Fundación Fangio in Argentina – his famous 1939 Chevrolet Coupe TC and the 1947 Volpi Chevrolet 'La Petisa'.
But don't think that these cars are brought out of their museums just to have a fresh coat of drool layered over their paintwork by the admiring public. Oh no. They are raced, and raced hard. This was shown during the first race of the day, the Goodwood Trophy, where Gran Prix, Voiturette and historic specials that raced between 1930 and 1950 took to the track. Five minutes before the race it chucked it down leading to some very sideways action as the classic cross-cut Dunlop tyres scrambled for grip. Seeing cars like the 1931 Bugatti Type 54 spraying water off its spinning tyres into the face of the driver behind piling armfuls of opposite lock in the 1948 Alfa Romeo 'Alfetta' really is magical.
You don't need to be a hardcore petrolhead to enjoy the Revival. I'm reliably informed that if you are of the age to remember the era, it is worrying realistic and fascinating to walk around. This is largely due to level of detail that is put into the event. It's like a Hollywood film set as Lord March and his team even constructed a 1950s high street full of favourite shops from the period.
But don't worry if your other half drags you around the shops as the organisers have littered the place with a wonderful collection of classics. No modern vehicles are allowed within the circuit perimeter throughout the weekend which means you see '50s Rat Rods parked up next to the burger van and a Fiat 600 next to the first aid tent.  Around 200 pre-1966 vehicles are used to keep the site moving logistically. VIPs are shuttled in old Rollers whilst fleets of WW2 Jeeps and 1950s trucks and vans shift spare parts to and from the track. If your main passions in life are cars and horticulture then Goodwood Revival is your place. Around 4,000 hydrangeas are planted around the track and there are even flowers on the top of the chicane, just as there always used to be back in the day.
Those flowers on top of the chicane don't stop people crashing into it, though. This was proven during the Earl of March Trophy which is a race specifically for 500CC Formula 3 cars that raced between 1948 and 1959. Pre-Gran Turismo, these dinky 500cc motorbike engine powered racers are how drivers such as Stirling Moss, Peter Collins and Jim Russell all honed their skills.
The action isn't reserved just for the track as it is also in the air. Throughout the weekend the sky was filled with a dozen Spitfires - the most to take to the skies over Goodwood since World War Two. Being the 75th anniversary of the Spitfire they also brought in a Lancaster bomber to do a low level air display with the Spitfires flanking it either side.
Bikes are also very well represented at the Revival having their own open paddocks for punters to have a sniff around. Like the cars, bikes lining up on the grid have come from all around the world. With home-grown favorites including Manx Nortons and Matchless G50s, competing with overseas manufacturers such as Ducati, BMW, MV Augusta and Gilera. The magic is that modern day riders battle it out with riders from other generations as they all start with a Le Mans-style running race to their vintage steeds.
Before each race all the cars and bikes are held in a pen, rounded up by fat men waving flags. It is the most elaborate and expensive herding exercise I have ever seen but does offer a perfect time to do a bit of celeb spotting. The Revival brings the greats from both modern day racing with those of the past as you see Stirling Moss rubbing shoulders with Christian Horner and Adrian Newey fight it out on track against Martin Brundle.
That design guru Newey, and the BBC F1 commentator with the big necklace battle it out in the Royal Automobile Club TT Celebration for closed-cockpit GT cars that raced between 1960 and 1964. This class is one of the sexiest things a petrolhead can observe. With cars such as Ferrari 250 GTO, Aston Martin DB4GT and Maserati Tipo all worth millions each having their steeringwheels gripped tightly by leather driving gloves while the right foot is pressed right to the floor as they have a battle to brake latest it is the ultimate gentleman's race.
In total there are 16 races per day over the three day event and if you want to see everything you need to be there the whole weekend. Goodwood Festival of Speed is often touted as the best motor show on Earth. That maybe true, but with its massive commercial ties and wide audience it is losing some of its hardcore passion. This is not the case for the Revival which is effervescent with passion and a magic that can't really be put into words. The only way to really experience it is to grab some vintage clobber and go yourself.
Words: Rowan Horncastle
Photos: Rowan Horncastle
For a full set of images from the Goodwood Revival click here