April 5th, 2011
Petrolhead profile: Jon Olsson
They say that being able to multitask is a beneficial attribute. Being able to multitask in the wild world of extreme sports, where there is big corporate sponsorship up for grabs, is massively beneficial because it means you have twice the sponsor money to go and spend on an awesome car collection.
Step in Jon Olsson, a Swedish freeskier and alpine ski racer who has great hair, a fit girlfriend and an ace car collection. Olsson is a legend in the skiing community for being able to compete in two contrasting disciplines and be extremely good at both. Having this ability means that he has also got a lot of sponsors who want to stick their logo on anything they can. Being a bit of a 'dude', Jon doesn't like to use an amazingly practical car collection to get himself up to the slopes. Instead, he uses supercars, namely Lamborghini's and his new Nissan GT-R "Olsson winter edition".
Jon's first supercar ski lift was a Lamborghini Gallardo finished in camo and fitted with a roof box for the two planks that he straps to his feet.
"I walked in to Lamborghini in Monaco and bought it. It was a little hard to get their attention when I first walked in, but when I asked if they could have it ready by lunch that changed (laughs). It now has a new paint job in winter camo and a ski box."
The reason that the Lamborghini salesmen initially laughed was because Jon was only in his early twenties at the time.
After completely re-writing the skiing trick book by inventing several new double flips, including DJ Flip, Hexo Flip, Kangaroo Flip and The Tornado (YouTube them) Jon had a whole bunch of sponsor and competition cash to splash. This led him to purchase a Lamborghini Murciélago LP640 and then quickly upgrading it to a LP670-4 SuperVeloce.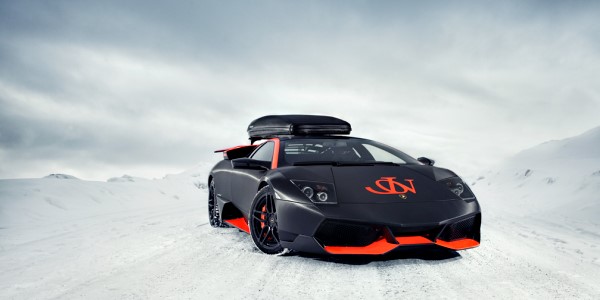 Like his Murciélago LP640, the SV was painted in matte black and once again had a roof-mounted cargo box for his skis. However this time a conventional roof rack couldn't be used so one had to be manufactured to fit over the engine bay. Being a bit of a big shot in the ski game, the car was emblazoned in various sponsor stickers to offset the massive fuel consumption. We know that the Audi-derived four wheel drive system is good in the snow but Olsson had to get some studded tyres specially made for the monster 335/30 tyres. The Lambo is used as his daily driver between ski races on various Alpine routes around Europe. The reliability of the Lambo/roof rack combo was also tested on last year's Gumball 3000, where it was also fitted with a very very very noisy straight pipe exhaust system.
Jon's latest acquisition is a new Nissan GT-R. Now you may think that this may be Jon getting a little soft but the GT-R is perfect for the thousands of miles that need to be covered in a season and is apparently the 'perfect touring car'.
"I might be used to cars that are really fast but I have to say that this thing exceeded my expectations! In first and second gear it even feels faster then the LP 670! Then you let go of the gas and you have a normal chill car again! It sure is one sweet Japanese piece of engineering!"
According to Olsson the work on this R35 GT-R included the addition of a roof box – it's similar to the one on his Gallardo and Murci's – and golden sponsor decals to contrast against Godzilla's exterior black finish. In addition to the aesthetic additions, Olsson also added a custom Eisenmann Exhaust on the GT-R to give it the sound of a 'jet fighter'.
Olsson calls this particular version the 'NR 1' and says that, while some modifications have already been made, his work on it is far from finished.
When not on the slopes Jon lives in Monaco - for obvious reasons - and if you have ever been there you may recognise his Ultima GTR. Jon has had the road-legal racer for years and has re-built it many times. The chassis is capable of handling 1000hp and Jon has used plenty of lightweight materials, laminated glass, and plonked a massive carbon fiber wing on the back. It used to have a Chevrolet 6.3 litre V8 engine producing 534bhp and 528ft-lbs of torque, stock. Then he turbocharged it. In a big way. The total weight of the vehicle is only 990kg. Jon being Jon doesn't like thing to stay normal for long, so he is currently dismantling his JUN bodykitted Ultima into its latest form for Gumball 2011.
The new Ultima will have a Lexus V8 which will then be twin turbocharged. Aesthetically it will be inspired by the Japanese wide body Super GT series and will sit on the new Adv1 5.0 wheels. You can also see from the rendering above you can see what the car will look like and if you have that keen eye you can see that the lights are taken straight from the Alfa Romeo Giulietta demonstrating Jon's influences and varying styles.
So what is in the future for this crazy Swede? Well he is just about to pick up his Lamborghini Aventador LP 700-4. So if you see a matte black Aventador with a ski box attached you can guess who owns it.
Jon Olsson we salute you and your car collection.
Words: Rowan Horncastle