June 15th, 2011
Petrolhead profile: James Glickenhaus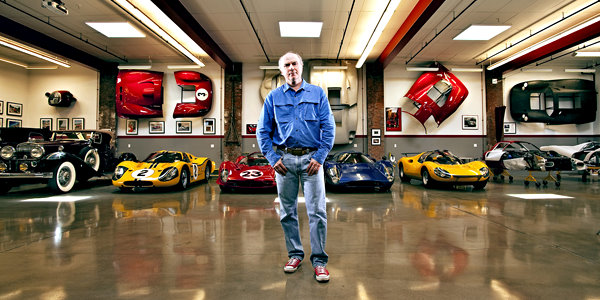 "Not putting miles on your Ferrari is like not having sex with your girlfriend so she'll be more desirable to her next boyfriend." That is a quote from James 'Jim' Glickenhaus - a true petrolhead.
Jim's day job is to head the investment firm Glickenhaus & Co. This allows him to pursue a car lifestyle like no other and he has obtained quite a collection. Being well-known as a Ferrari aficionado, after hauling in a stable of prancing horses that includes a 1947 Ferrari 166 Spyder Corsa, the Dino Competizione, a P3/4 and a 412 P the Ferrari P4/5 by Pininfarina and now the P4/5 Competizione we thought that these and some of his other cars needed an internet airing.
Petrolheads around the world became familiar with Jim when he started talking about project P4/5 on the FerrariChat. Not many people get a phone call from Pininfarina asking whether they want to build a one-off car – but Jim does. Being a Ferrari nut and having the disposable income to fulfil this kind of dream, Jim jumped at the opportunity.
The first thing to do was to find a canvas car to develop. So what did Mr Glickenhaus do? He bought the last ever Ferrari Enzo - as you do. He then sent it to Pininfarina with the plan to build a modern version of the Ferrari P-series prototype cars from the 1960s and 70s which are extremely rare and wonderfully gorgeous (that is why Jim owns two of them).
Design guru Jason Castriota got his Crayola set out and designed one of the best one-offs ever.  With the rear seeking inspiration from the Ferrari 512S, the side vents are similar to the Ferrari 330 P3 and the nose is similar to that of the Ferrari 333 SP it is a thing of beauty. What is also amazing is that Jim managed to outdo the boys of Maranello by making the P4/5 perform better than the Enzo donor car. The improved aerodynamics from the sculpted  carbon fibre reinforced plastic shell gave the car greater downforce, yet less drag making it more stable than the Enzo at its 233mph top speed. With other modifications he also managed to shave 0.5 seconds off Ferrari's hypercar 0-60 time. Win. Win.
Now making your dream Ferrari isn't cheap. The Enzo cost Jim $2 million dollars and then modifying it with more than 200 components designed especially for the P4/5 costs another $4 million. So if you want to stand out from the crowd you better start saving now.
We didn't think that Project P4/5 could get any better. But it has. Once again Jim is living the dream by taking the P4/5 racing in the shape of the P4/5 Competizione.
The Competizione is not using an Enzo as a base instead opting for parts from a F430 GT2 race car and a F430 Scuderia road car. It is set to race next week at the Nurburgring 24 hour in the Experimental Class. And after that? Well Jim is going to drive it … on the road. The car is being made fully street legal so it can be blasted around the streets of New York.
Even though Jim is known as a Ferrari aficionado he has also dabbled with other makes too. He owns an old Ford MKIV GT40 #J6 which was driven by Dan Gurney and AJ Foyt at the 1967 24-Hours of Le Mans finishing first. Now cars with historical racing pedigree of this magnitude would normally be put in a hermetically sealed box in a museum. But this is Jim and he has made it street legal and put over 35 thousand miles on the clock since buying it.
You may have noticed that Jim likes rare cars. And they don't get much rarer than his 1967 Ferrari Dino Berlinetta Prototipo Competizione, more commonly known as "Yellow Dino". This gull-wing concept was built by Ferrari and Pininfarina in 1967 as a design study and an experiment in aerodynamics. It was never put on sale but was there to showcase ideas in how to shape air around a cars body for better performance.
The Dino 206 Competizione lived in the Pininfarina museum for more than three decades until 2007 when, after several years of pestering, the design house finally agreed to sell it to Glickenhaus. He snapped it up, stuck some number plates on it and put it in with his other super rare prancing horses.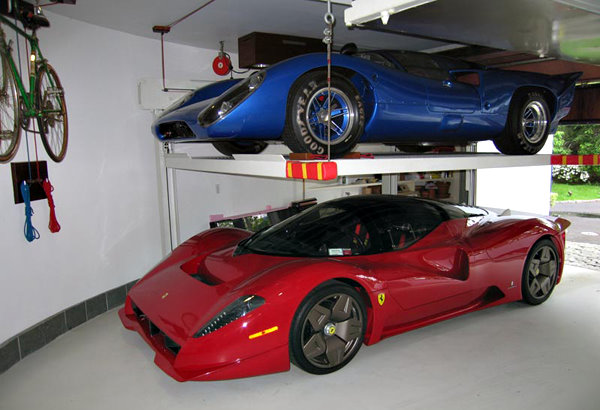 Now when you have a garage like Jim's you have to get creative with parking. So check out his double-decker parking spaces with an uber rare ex-Donohue/Pensky Lola T70 MK II Can Am car SL 71-32 which won several races and has a long and great racing history sitting on top bunk above the priceless P4/5. Jim hasn't let this Lola stay up there and gather dust like the odd bits of MDF hanging from my garage roof as it has been made street legal and done over 60 thousand street miles. A-may-zing.
But it is just not supercars Jim lusts over as he recently bought a 1967 GM prototype made to compete with the Jeep. It was owned and raced by the legend Steve McQueen in the Baja 1000.  Constructed with a sturdy tubular steel frame, heavy suspension, a 450-hp 350 cubic-inch V8, Hydra-matic automatic transmission and huge tires, this thing can conquer most terrain with ease and looks badass. If you have ever wanted to know if a car falls into the cool category, having Steve McQueen as a previous owner means it can be nothing but epically cool.
Now we know we have left some of the other cars in Jim's collection out in this post. We could have included his Duesenberg J446, Stutz DV-32 or his Alfa Romeo 8C Competizione. But I think you get the picture from the other cars that this is one serious petrolhead.
Jim Glickenhaus, we salute you and your car collection.
Words: Rowan Horncastle