September 16th, 2011
Top 5 from Frankfurt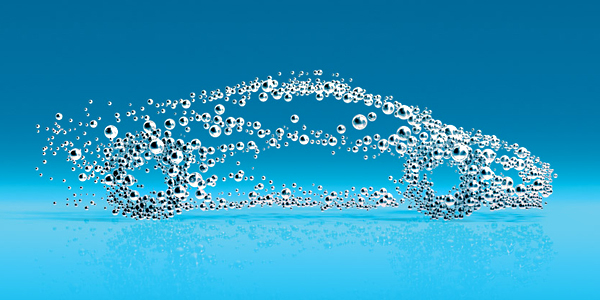 So this week the world of motoring travelled to Frankfurt to walk around a stuffy arena, get a foot full of blisters, see some covers get whipped off a selection of metal by a bunch of attractive women with a morose corporate smile and then peregrinate from one stand to another to the have the whole process repeated.
That is the cynical opinion held by some to what the modern motor show is, but not by us. The introduction of the internet and social media has made the motor show a lot quicker. Someone can TwitPic a photo of a brand new concept (only if it has not been leaked on the web a few weeks before) seconds after it is unveiled saving us all a lot of time and money by not having to go there ourselves. But there is still a purpose of this week's IAA motor show, just as there was at the first one in 1897 where just 8 motor vehicles were exhibited to the public. Motor shows give an indication as to what is to come in the future in many fields that make up the automotive sector, be it drivetrains, exterior and interior design or technology.
This year was no exception and we've picked out five cars that sparked a particular interest as what is to come in the future.
Audi Urban Concept
Mobility seems to be the buzz word of the moment. Cars have always been about being able to move freely and easily around our environment, but according to car makers we live in a world with uncontrollable birth rates and roads that can't handle our incessant consumption so require smaller, more efficient means of mobility.
This is Audi's vision of the future. And we like it, really like it. Weighing just 480 kilograms, the Audi Urban Concept is a mash up of a racecar, a roadster, a city car and, er, a glider. The glider part is where Audi got the philosophy for this car, being an exercise in lightweight construction, efficiency and reduction.
We're not sure why this particular Audi appeals to us so much, they normally leave us feeling quite cold and unenthused. I think it maybe the big 21 inch outboard wheels sprouting from the carbon fibre monocoque via a deliciously extravagant pushrod suspension set up. Yep, that is it.
Inside there is a trendy (all urban mobility cars seem to have them) off-set seating arrangement for two. To get in you slide the roof back and hop in. This canopy can be also left open in good weather and "also allows the cabin to be aired out very quickly" - Audi's words not mine. If you have serious flatulence issues the concept was also shown in a Spyder, so don't worry.
The Urban Concept is is powered by a 15kW brushless electric motor mounted at the rear and providing drive to the rear wheels. It gets its energy from an lithium ion battery pack, providing each Urban Concept with a range of just 31 miles (and people complained about the LEAF's range?!).
Before the internet starts complaining about the range I best just say that the Urban Concept has no plans to ever go into production. But like most concepts, Audi are planning to take elements of the Urban Concept and put them in their future road cars; especially the carbon fibre elements.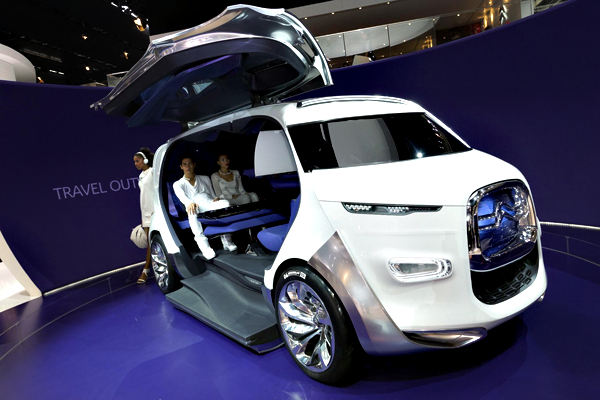 Citroën Tubik
You may have thought that the break our ears have had from infamous 90s Eurodance pop group the Vengaboys was because they split up. But no, they have just had a sabbatical to find a replacement Vengabus from space. And this is what they came back with, the Citroën Tubik.
We may have made up the bit about the Vengaboys but if they do need a replacement, this is a good one. Designed to emphasise the journey not the destination, the Tubik is quite hard to define. It is not a car, and even though it is based on the Type H from the past, it is not really a van either. Citroën class it as a "high-tech executive shuttle" which sounds a lot cooler than a van.
Inside there are enough seats for nine and countless numbers of seating configurations. The interior is designed to be a lounge-style cocoon dedicated to comfort and relaxation with giant semi-circular screens and high-definition surround sound to keep occupants entertained. The driver gets a different experience as they guide the shuttle via the "cyclotron" (it all sounds very sci-fi doesn't it?).The "cyclotron" is a system that groups – in one circular line (not sure how that works) – the seat, pedal assembly, steering wheel and circular head-up display all in one.
The Tubik has a long way to go before it can even think about going into production as I'm not sure what Euro NCAP will think of the the full-length private jet style split doors. But if this is family travel of the future, I'm all in.
Jaguar C-X16
After spending a week revolving around the gawping public, the Audi and Citroën will probably not see the light of day for another 30 years. They may occasionally be cross referenced to show how revolutionary or how wrong the designers were at predicting the future but other than that they are firmly one-off concepts. But this, the Jaguar C-X16 with its usable switchgear and applicable design, is verging on the side of production rather than full on concept.
Being built off a shortened aluminium platform of the next XK, the C-X16s 2622mm wheelbase puts in the same bracket as the Porsche Cayman and with its powertrain it could be nipping at the 911s ankles.
Its has a hybrid drivetrain with a front-mounted supercharged 3.0-litre V6, which develops 375bhp and 332lb ft of torque  but also gets some help from a 95bhp, 173lb ft electric motor. This electric motor means that the C-X16 can travel at up to 50mph for short distances using the 1.6kWh battery pack that is located behind the seats. This collabo between petrol and electricity means that the C-X16 can get to 62mph in just 4.4sec and on to a top speed limited to 186mph. The electric motor also has another bonus function, a KERS style 'push to pass' function. This creates a power boost that means the C-X16 can go from 50-75mph in just 2.1sec. To harness this extra power the driver has a button the steering wheel but it can only be used for 10 seconds.
The mechanicals are impressive enough but just look at the thing. Designed  by Ian Callum (If you don't know his portfolio it's worth giving him a quick Google) it is "an evolution of the design ethos of past Jaguars" and "defines an agenda for a future of dramatic, innovative sports cars." We say Amen to that because it looks fabulous. It isn't a modern interpretation of the E-Type that everyone thought it would be - which is a good thing as retro is so five years ago dahhhhling. Instead its sleek and compact lines show real sporting intention and hopefully it has driving dynamics to match.
With no production date set there have been rumours floating around that we could see it as early as next year for somewhere in the region of £55,000 to £70,000. Let's just hope it comes around sooner rather than later.
Ford Evos
Web 2.0, say hello to the Ford Evos and Kinetic 2.0, the next generation of Ford's design language. We know from cars of the past that Ford's concepts are used heavily to showcase aesthetics of their cars, so elements of this will be on the future ford line-up.
The main difference with Kinetic 2.0 is that has a more serious and technical edge to it mixed with a new premium look. There is a new trapezoidal grille and much smaller head and tail lamps which use more powerful LEDS to offer more effective lighting but within a lot more cleaner cut housing.
The Evos also comes with its own cloud, it's not a altostratus or cumulonimbus, though. Instead it is a digital one that enables drivers to have information about, work schedules, traffic jams, accident warning signs, weather conditions sent to them via the car speaking to the internet. The cloud can also adjust the cars handling and suspension to suit the upcoming road conditions.
In typical concept car fashion the Evos has doors with silly hinges. Having not two, but four gullwing doors means that it is very easy to get in and out of. Does this matter? No, because it won't reach any S-Max in the near future but other elements of the car will, so take note.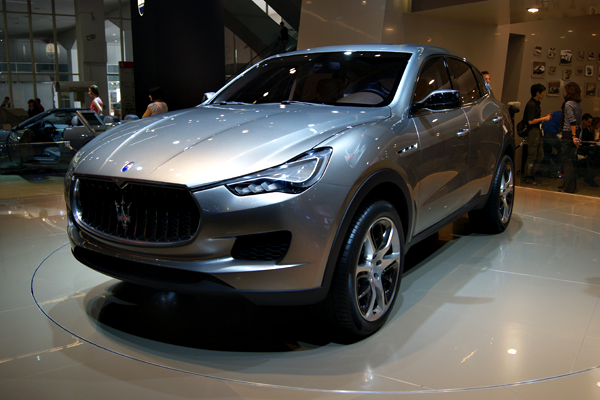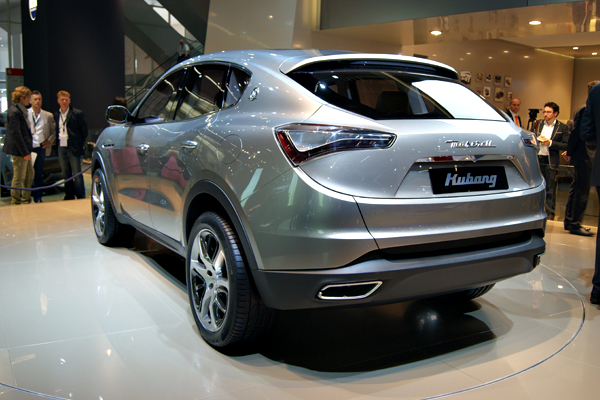 Maserati Kubang
But it couldn't all be good news. Maserati came to the Frankfurt with a massive (Ku)bang. Apologies. Wanting a slice of Porsche's luxo SUV pie, Maserati have decided to build this, the Kubang. The less said about the Kubang the better but here are some basic specs. It will be using the Jeep Grand Cherokee chassis, it will have a V8 and it will be ridiculously expensive. Want one? Nah, neither do we.
Words: Rowan Horncastle